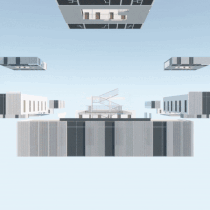 MODULAR HOUSE:
THE FUTURE OF BUILDING
Modular housing is revolutionizing the way we build homes . The traditional method of construction can take months, even years, to complete. But with modular housing, the entire process can be cut down to just a few weeks. And because the production is done in a controlled environment, there are minimal weather delays.

Another huge benefit of modular housing is that the installation process is much faster than traditional construction methods. Once the modules arrive at the site, they are quickly assembled into a completed home. This means that you can move into your new home much sooner than if it had been built using traditional methods.

When you move into a modular home, everything is already in place. There's no need to wait for appliances or furniture to be delivered - it's all there waiting for you. This makes for a much smoother transition into your new home.

Modular buildings also have many other advantages over traditional buildings. They can be built much faster, due to the simpler and more efficient construction process. They can also be installed much faster, which means that you can start using them sooner after they arrive on site. WHY MODULAR
BUILDINGS ARE
THE FUTURE OF

​ CONSTRUCTION



FAST PRODUCTION


FAST INSTALLATION


EVERYTHING READY



FAST MOVE IN